Are you pregnant again and are you wondering if you can continue to wear your toddler during pregnancy?
When a sibling comes, your big child is still small and needs closeness and security. Long distances can not be mastered on foot and your child would still like to be carried.
But is it not too hard to pick up and carry a toddler during pregnancy? Where is the border? Can a miscarriage be triggered by babywearing? These questions we will answer in this blog post.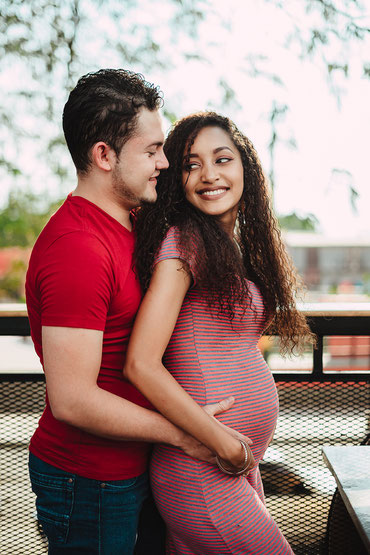 ---
There are no scientific studies on how much pregnant women are allowed to lift and carry. For ethnic reasons, there will probably be no studies in the future.
At present one finds the only official indication in the work protection law. According to this law, pregnant women are not allowed to lift more than 5 kg on a regular basis or carry out activities in which they occasionally have to lift more than 10 kg.
Often one hears that by the heavy lifting and carrying a premature birth can be released. However, there is no statistical evidence for this.
Feeling well, you can carry and lift your toddler during pregnancy. Listen to your body and if you feel unwell, you should take a break while wearing him, until you feel fit enough again. Make sure you do not overburden yourself.
---
Your child is sitting in the baby carrier close to your body. You are so in the middle of your body and you protect your pelvic floor. Anyway, it's unavoidable that your toddler still wants to be carried.
If you carry your child on your arm, you go into a outbalancing posture and load your pelvic floor additionally.
Your child still needs the closeness and security, especially in pregnancy, the upcoming changes are already felt. Wearing gives your child security.
---
Ask your doctor and / or midwife if babywearing is o.k.
You should already have babywearing experinces, your body should already be used to carrying your toddler longer.
You should not have premature labor.
You should have no pelvic and back pain when wearing.
If possible, carry your child on your back. If you wear in front of the belly, your pelvic floor will be more heavily loaded.
Do not wear if you have bleeding or abdominal pain.
Your child's weight should not press on your pregnancy belly.
The hipbelt of a carrier should be above or below your baby belly, better are carriers without a waist belt, e.g. Onbuhimo, Wrap, Podaegi.
Make sure that there is not too much pressure on the uterus.
---
Below you will find an overview of which Huckepack carriers are suitable for carrying during pregnancy.
---
The Onbuhimo is probably the most popular baby carrier when it comes to wearing during pregnancy.
It is easy and quick to put on, in principle the way you would put on a backpack. The Onbu is small in pack size and fits so well in your pocket, if your toddler wants to walk.
Since the Onbuhimo has no hip belt, nothing can press on your baby belly. The Onbuhimo is above all a back carrier.
---
The Podaegi is also an ideal baby carrier to wear during pregnancy.
The Podaegi can be used from birth to preschooler and grows with your child for a long time.
When you wear your toddler in a Podaegi, you can knot the straps in front of your chest, so that you do not put any pressure on your belly. The Podaegi also comes without a hip belt.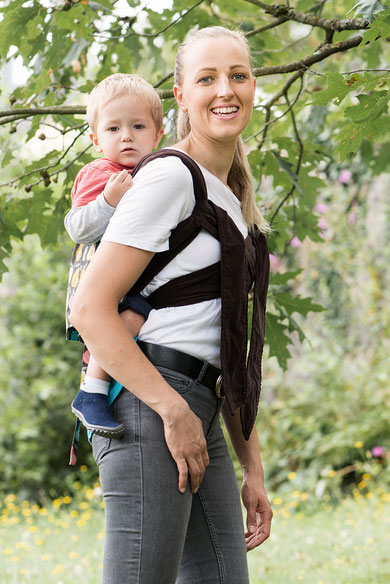 ---
The Mei Tai is a carrie, there you tie both, the straps and the waist belt.
The hipbelt is softly padded and narrower than e.g. the hipbelt of the Full Buckle. You can tie the waist belt over your belly, so that there is no pressure on your unborn baby.

---
These 3 baby carriers have a wide, ergonomically shaped hip belt, which takes a lots of weight from your shoulders.
During pregnancy, the hipbelt may be too wide for you. It's best to try it, if it's comfortable for you. With a custom-made design, we can also sew these carriers with a different hipbelt, that suits you better during pregnancy.
The straps of the Wrap Tai and Half Buckle can be tied in front of your chest, so that no pressure on the abdominal area caused by the shoulder straps. In the video, I'll show you how to tie the straps with of a Wrap Tai.
---
You can use different finishes. This means you can knot the wrap ends instead of in front of your belly, in front of your chest. The most popular finishes include the Candy Cane Chest Belt, the Tibetan Ties and the Lexi Twist.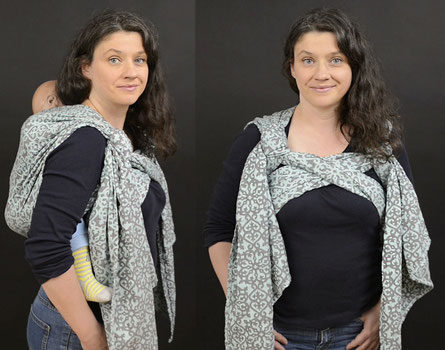 ---
With the wrap you can tie your belly during pregnancy and relieve it.
During pregnancy, your back muscles, abdominal muscles, spine and pelvic floor are stressed. At the end of the pregnancy, you may have discomfort because you go too much into a balance posture.
If you put your baby bump in a wrap, you can improve your posture and so relieve your discomfort.
---
What are your experiences with wearing your toddler during the pregnancy? Leave a comment.
---